Invisalign In Bullhead City
Do you have a crooked smile or uneven bite, but are afraid to seek orthodontic treatment because of the appearance and hassle of traditional braces? Metal brackets are just fine for teenagers, but adults may want to straighten their teeth in a more discreet manner. Enter Invisalign® invisible braces: with Invisalign®, patients of all ages can straighten their smiles in comfort, and Invisalign® invisible braces are virtually undetectable to the eye.
Invisalign® aligners are constructed from very thin, clear plastic: they are virtually invisible to even the closest observer and do not hinder regular speaking in the least. Unlike traditional braces, Invisalign® aligners can be removed for convenient eating and for cleaning, though aligners should be worn as much as possible to achieve maximum results in the shortest amount of time.
Invisalign® invisible braces are actually a series of clear plastic aligners that gradually cause teeth to shift position. The first step in the Invisalign® process is a consultation with a cosmetic dentist or orthodontist to make sure you are a good candidate for invisible braces. Once you have been approved for treatment with Invisalign®, your doctor will take a mold of your teeth and send them to an Invisalign® laboratory where your aligners will be custom fabricated to suit your unique needs.
Patients wear each set of Invisalign® aligners for roughly two weeks, then move on to the next set of aligners in the series, gradually causing their teeth to shift into more pleasing positions. The Invisalign® system is roughly the same cost as traditional braces, and treatment takes roughly the same amount of time. Most Invisalign® patients can expect to achieve their ideal results in about a year.
If you are ready to achieve the smile of your dreams in comfort and discretion, schedule an Invisalign® consultation with Dr. Collins today!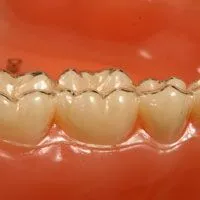 Many adults are unhappy with their crooked smiles, but are hesitant to undergo traditional orthodontic treatment because of the juvenile appearance associated with metal braces and retainers. Thanks to Invisalign® invisible braces, however, adults can now achieve the smiles of their dreams with comfort and discretion in about the same time it takes with traditional metal brackets.